Precision Physiotherapists!
All of our physiotherapists have a professional university-level qualification as a minimum requirement. We operate as an evidence-based practice, using clinical approaches proven and recommended through research and consensus guidelines.
We have a professional development program to keep us up-to-date with current practice guidelines.
Our senior physiotherapist, Dr. Aubrey Monie, who contributes to, and supervises our professional development, has several university-level qualifications, is a former adjunct teaching fellow at The University of Western Australia, and an Australian Physiotherapy Association titled musculoskeletal physiotherapist.
Meet the Precision Physiotherapy Team
Ph.D. (Lumbar spine), B.Sc. Physiotherapy, Graduate Diploma Sports Manual Therapy, Master of Manual Therapy with Distinction, Master of Medical Science (Shoulder JPS), Advanced course Dry Needling (2000), Australian Physiotherapy Association titled Musculoskeletal Physiotherapist, Former adjunct Teaching Fellow (U.W.A.), Former clinical assessor for the Australian Physiotherapy Council.
Aubrey received his physiotherapy degree from Curtin University (Perth, Western Australia) in 1998. In 2003 Aubrey completed a Graduate Diploma. in Sports & Manual Therapy from the Centre for Musculoskeletal Studies at the University of Western Australia (UWA) and then completed his Master of Medical Science (by thesis, shoulder JPS) at UWA in January 2009 and lectured and tutored anatomy for Notre Dame University physiotherapy students during this time. He has held positions as a personal trainer and sports trainer for various sporting clubs, including; Perth Demons FC, Dianella White Eagles soccer club, Nedlands Rugby, and Cobra Kickboxing. Aubrey was an Adjunct Teaching Fellow at the Centre for Musculoskeletal Studies while completing his Master of Manual Therapy degree (with Distinction) at U.W.A. In 2016 Aubrey completed his Ph.D. project at UWA and Sir Charles Gairdner Hospital, which investigated mechanical low back pain and reported diagnostic and therapeutic aspects of problematic lumbar spine structures. Aubrey and co-authors have published in international, peer-review journals. Aubrey has also reviewed manuscripts for journal publications. Aubrey is titled 'Musculoskeletal Physiotherapist' by the Australian Physiotherapy Association.
Overall, Aubrey has significant theoretical and practical experience and is well trained to assess, diagnose and treat musculoskeletal (muscle, nerve, and joint related) conditions.
Image: Aubrey treating a low back using a manual therapy technique.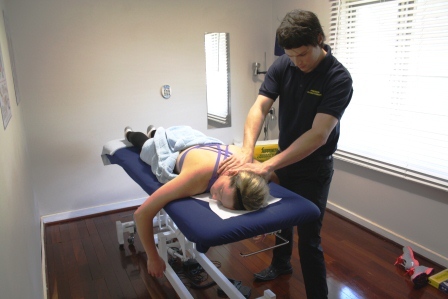 B.Sc. Physiotherapy, Member of the Australian Physiotherapy Association, Senior Physiotherapist at Precision Physiotherapy.
Matthew completed his degree in Physiotherapy at the well-respected Curtin University in 2009. Matthew has been with Precision Physiotherapy since graduating and has a particular interest in musculoskeletal conditions and a keen mind for assessing, diagnosing and treating biomechanical problems. Matthew is efficient at treating both general and sporting conditions and works from our Brentwood clinic (formerly Mount Pleasant).
Matthew attended a cricket academy program in high school and captained and played with the First XI team across Australia, New Zealand, Malaysia and Singapore. He also managed to be Dux of his year, the only cricket student in the history of the school to achieve this! Outside of school, Matthew captained his junior local and WACA teams, where he was club champion on multiple occasions and was in the Under 17 state cricket squad. In the winters he played football (AFL). Matthew continues to be involved in social cricket and enjoys staying fit.
Overall, Matthew has plenty of experience in physical training, physiotherapy, and rehabilitation.
Image: Matthew treating a client's stiff neck
B.Sc. Physiotherapy, Dry needling, Member of the Australian Physiotherapy Association, Senior Physiotherapist at Precision Physiotherapy.
Phillip completed his degree at the well-respected School of Physiotherapy at Curtin University. In 2011 Phillip broadened his skills at Bentley Health Service's Outpatient Musculoskeletal department where he treated a variety of conditions with an emphasis on spinal (neck and lower back) conditions. Phillip has also treated clients in the musculoskeletal setting at Collie Hospital and researched the effects of smoking on the management of Rheumatoid Arthritis. During Phillip's time at Precision Physiotherapy, he has demonstrated a high level of clinical assessing, reasoning and treating with excellent outcomes and patient satisfaction. In 2012 Phillip completed a Physiotherapist's acupuncture course through the Australian Physiotherapy Association. As a local resident, Phillip makes himself available Monday-Friday and Saturday mornings at our Manning clinic.
Sport has always played an important role in Phillip's life. Although he competed in a variety of sports, he focused his efforts on State League 1st Division Soccer during '06 and '07. Phillip continues to compete at a social level in both soccer and squash.
Image: Phillip working on a patient's upper limb condition
B.Sc. Physiotherapy, Dry Needling, Member of the Australian Physiotherapy Association, Senior Physiotherapist at Precision Physiotherapy.
Cameron has worked at Precision Physiotherapy since graduating from Curtin University in 2014. He thoroughly enjoys assisting his patients, of all ages and walks of life, who present with musculoskeletal conditions. Cameron has a interest in sports injuries and is familiar with those specific to contact sports. He prides himself on his ability to assess, problem solve, diagnose and manage common and complex conditions, in all regions of the body. Living locally, Cameron is available Monday to Saturday at our Manning practice.
Cameron has played competitive Australian rules football, as well as social golf, basketball, tennis, and squash. As a lover of sport, Cameron follows many codes and is a big fan of Aussie rules, basketball, and American football.
B.Sc. Physiotherapy, Member of the Australian Physiotherapy Association.
Melissa grew up in France and completed her Physiotherapy degree in 2014. Melissa has worked as a physiotherapist, support worker, and sports trainer, and has practiced Yoga on a regular basis for over three years.
Melissa treats a variety of conditions including neck & back pain, shoulder, hip and knee conditions, sports injuries, worker and motor vehicle injuries, osteoarthritis and headaches and uses a combination of joint mobilisation, soft-tissue massage, dry needling, and exercise, as part of a multi-modal approach to deal with musculoskeletal conditions.
Working at Precision Physiotherapy East Fremantle (next to Bicton), Melissa has teamed up with like-minded clinicians, who aim for accurate diagnosis, treating the source of a problem, exercise prescription and excellent patient outcomes. Melissa works closely with Dr. Aubrey Monie (company director) when managing difficult cases.
Overall, Melissa is an evidence-based, effective physiotherapist, who likes to assess thoroughly, target the source of a problem and achieve excellent patient outcomes.
Image: Melissa treating a new mum.
Eilise Everard
B.Sc. Physiotherapy 
Elise completed some of her final year undergraduate training with Dr. Aubrey Monie at Precision Physiotherapy, before graduating from Trinity College in Dublin, Ireland, in 2018.
Eilise has interests in Gaelic football and enjoys running, aerobics and outdoor activities. 
As a physiotherapist, Eilise is very capable in the assessment, diagnosis, treatment and management of patients with musculoskeletal conditions, including back pain, neck disorders, sports injuries and overuse injuries, and patients requiring structured rehabilitation.
Eilise also teaches group and 1 to 1 stretching sessions at our Alfred Cove practice.
We have remedial massage therapists 6 days per week in our Manning and Alfred Cove locations. If you see one of our remedial massage therapists (minimum Diploma level qualification) you may be able to claim some of the cost using your private health cover.
The ability to claim and the amount claimable depends on your personal level of cover with your private health fund. Our EFTPOS HICAPS terminals allow instant claiming for most private health funds.
Our combined qualifications and knowledge include; Ph.D.(low back pain), Master of Manual Therapy, Master of Medical Science (shoulder thesis), B.Sc. Sport & Exercise Science, Grad. Dip. Sports Manual Therapy, B.Sc. Physiotherapy, and Myofascial Dry Needling (all therapists), Pilates, Personal Training, Former Teaching Fellow for the centre for Musculoskeletal Studies (UWA), Musculoskeletal clinical assessor for the Australian Physiotherapy Council.